Furry Friday: Serpent Versus Saurian
on
September 28, 2012
at
4:10 pm
With the release of my newest tutorial drawing book Draw More Furries right around the corner, I wanted to take a moment to highlight some of the talented artists who contributed illustrations. Here's Serpent Versus Saurian by Nimrais. Her ability to tell a story through excellent composition, strong figures, and vivid colors is breathtaking. I entrusted the most action-packed of the chapter openers to her care, an epic battle between a Triceratops Warrior and a Cobra Queen for Chapter 3: Scalies, and I couldn't be happier with the results: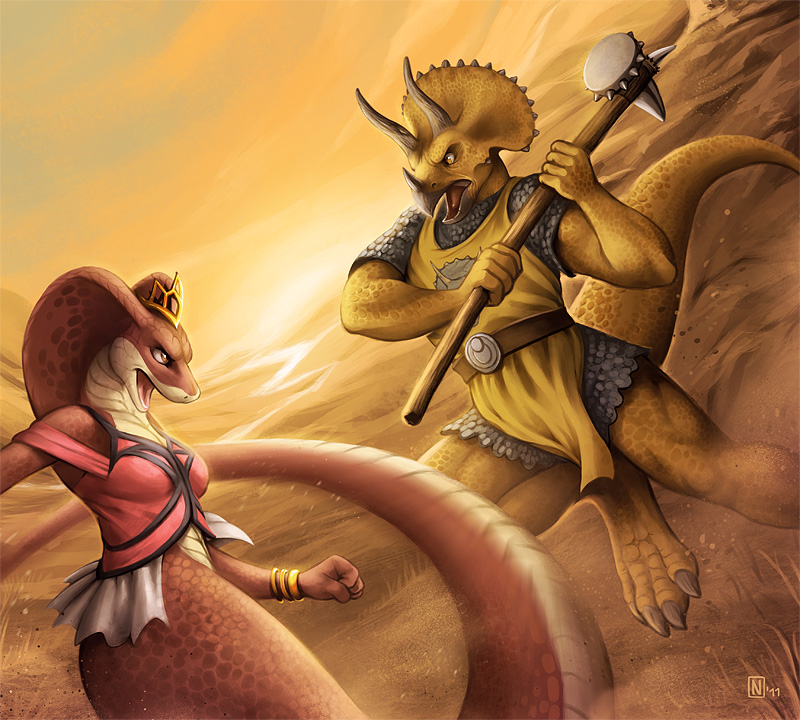 Here's what she had to say about her artistic process:
"I'm a female illustrator and designer from Germany. I've always been pretty creative and enjoy not only drawing but many other activities like crafting, photography and design. Now I'm a professionally trained Media Designer and I have a Bachelor's Degree in Design. For my digitally drawn pictures, I use Adobe Photoshop for both the sketches and coloration. I start with basic flat colors, then I add the shadows and highlights and continue with the details after that. At the end, I make any necessary color corrections to give the picture a balanced look." – Nimrais
Draw More Furries arrives in bookstores on November 23, 2012. Signed copies are available through my online shop!