Furry Friday: Picnic for One
on
November 30, 2012
at
10:05 pm
With the release of my newest tutorial drawing book Draw More Furries, I wanted to take a moment to highlight some of the talented artists who contributed illustrations. Given that so many artists these days work digital (myself included), it was a wonderful treat to have Kacey Miyagami do a traditional acrylic painting for the book. Check out the exquisite coloring on this lovely illustration of a shy raccoon enjoying apple pie. The delicate textures of fur and blades of grass are a nice touch.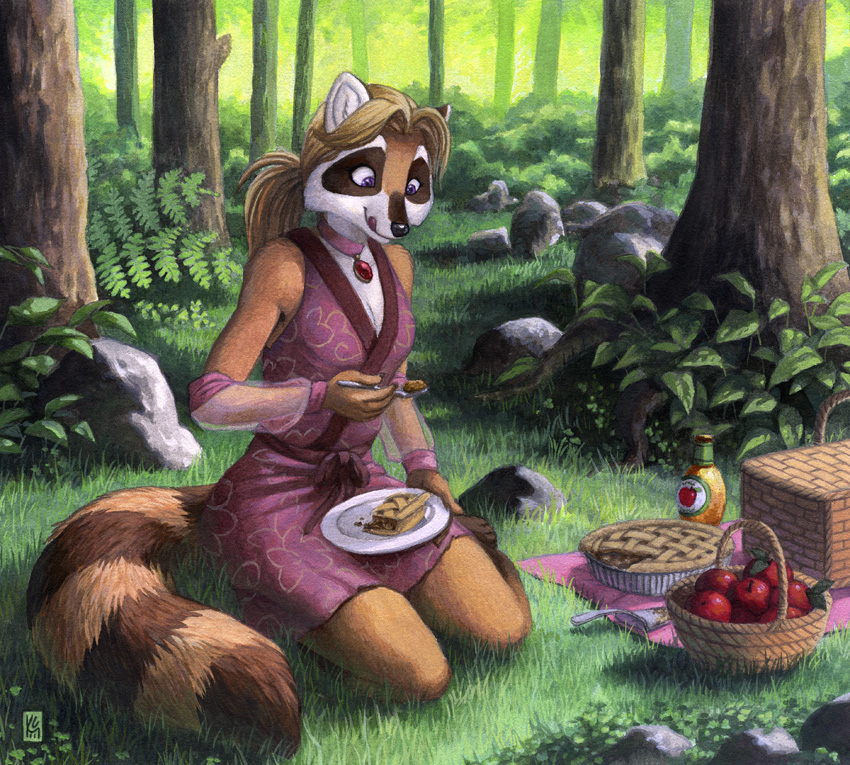 Here's what she had to say about her artistic process:
"I work primarily traditionally, my preferred medium for illustration being fluid acrylic paints. Fluid acrylics are a watered down version of full body acrylics, which behave similarly to both acrylics and watercolors. I start an illustration with one or more simple concept sketches, which I then redraw and refine into a finished pencil sketch on cold-press illustration board. Often, I will scan this pencil sketch and do a quick digital color test to determine shadow placement and overall color scheme before committing to the actual painting. Once I begin painting, I will work from the background forward, painting the characters last, to make sure they feel unified with their surroundings. A particular focus of mine with character illustrations is to create detailed environments to provide greater context and narrative for the characters." – Kacey
Draw More Furries is now available in bookstores, as well as through my online shop!