Furry Friday: Heroes of the Tall Grass
on
October 26, 2012
at
5:47 pm
With the release of my newest tutorial drawing book Draw More Furries right around the corner, I want to take a moment to highlight some of the talented artists who contributed illustrations. Here's Heroes of the Tall Grass by Kelly Hamilton. I was so happy to when Kelly agreed to participate on the book, because she has long been an inspiration for my own work. Her characters are always so wonderfully expressive, and her style has the perfect blend of cartoony realism that I love.
For this illustration, I asked her to depict a ragtag group of adventurers out on the savanna, embarking on a journey. I gave her the hyena's character design to start with and she designed from scratch the meerkat and agama lizard to be his companions. You can really get a sense of their personalities from the body language and facial expressions: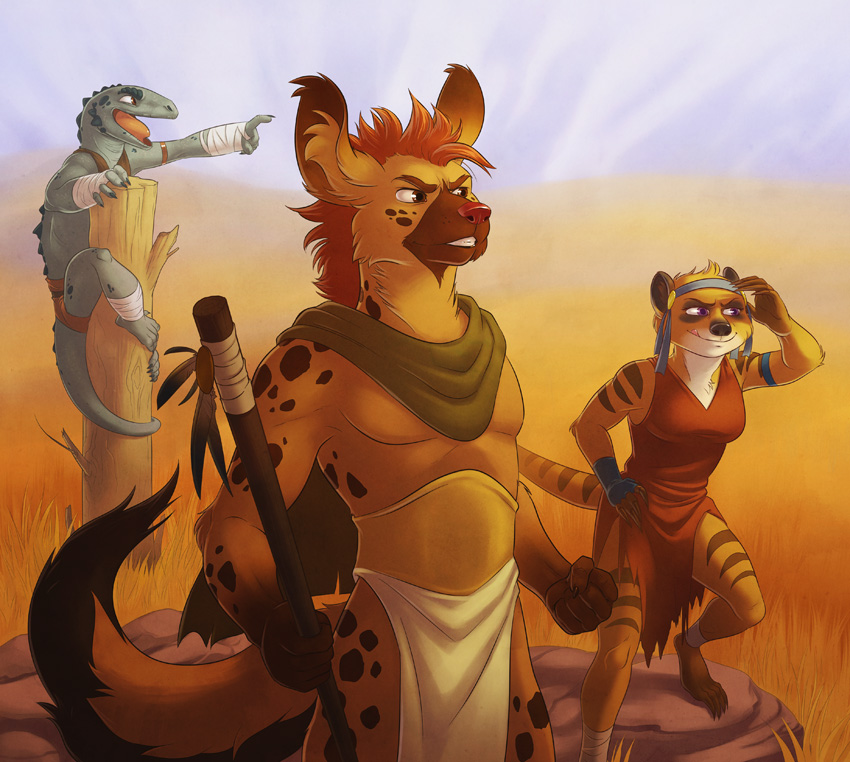 Here's what she had to say about her artistic process:
"My process starts with research, usually by finding photos online to inspire the characters, environments, and costumes in the image. Next, I sketch out a series of tiny thumbnail drawings, to plot out the basic composition and poses. That's followed by a larger, more refined sketch where I try to solve any remaining composition problems. I also like to add shading at this step to plan out the values in black and white. Inks and flat colors are done digitally in SAI Paint Tools, with final touches and textures created in Photoshop. Along the way I like to check my drawing by mirroring the sketch, and check values by converting the image to black and white. When the basics are solid, the final steps of inking and coloring are a breeze." – Kelly
Draw More Furries arrives in bookstores on November 23, 2012. Signed copies are available through my online shop!